Autism, Autistic Enterocolitis and visiting Dr Krigsman. Please apologize Fiona from Autistic Rights Together.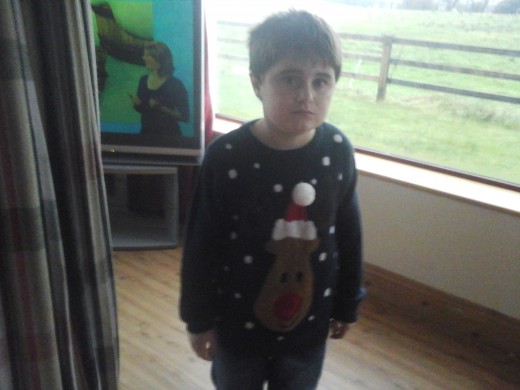 Our son's regression into autism.
On the 27/07/2016 I Mary Godley, gave an radio interview on, 'Peoples Internet Radio, Out of the Bag Show,'with host 'Sean Maguire,' here in Ireland. It was a story that began here in Ireland and then took listeners 2,500 miles across Europe, to a hospital in the capital of Sofia in Bulgaria. This interview tells the story of how Adam, who before we went to Bulgaria had multiple diagnoses including autism, ADHD, Oppositional Defiant Disorder, Developmental Delay and suspected Inflammaotory Bowel Disease.
Our son Adam was born in September 2007 and he was born healthy and had an uncomplicated birth. We now know that he had a reaction to his two, his four and his six month vaccines, but we were never told this at the time, or nor was it ever even suggested to us at all, that it was even a possibility. Then only days after Adam's six month vaccines he ended up in hospital after he stopped breathing in his cot one night. He had had a severe viral infection for a few days before that. Again it was never suggested to us that it could be a vaccine reaction.
Adam had another reaction to his MMR, again it wasn't immediate so I never linked the two until later. After this vaccine, Adam ended up at Ireland's after-hours doctor's clinic which in our area is called Southdoc. Before we took Adam there he was screaming and clutching his head while pacing around our house. Then he started laying down on his bed and he became very lethargic and sleepy. As his dad, Brian, says now after that night Adam was never the same again. Still even to this day, and despite the number of Freedom of Information requests and Internal reviews and un-granted requests for an independent check of their computer memory, Southdoc and the Health Service Executive (Irish Health Service body), are both still saying that this night never happened, as they can find no record of Adam being there that night. So obviously what they are saying is that I and my husband Brian and our daughter Sasha and Adam himself, all just all imagined the night our son had all the symptoms of Acute Disseminated Encephalomyelitis (ADEM), that being swelling of my son's brain which led to brain damage. It is now well documented that the MMR vaccine does and can cause this as an adverse reaction. How I wish that it hadn't happened but unfortunately it did happen.
Doctors didn't want to test Adam for anything after that. I had to fight with my doctor to get Adam even referred for an autism Assessment. Before that Adam had needed grommets and I had to ring up a Consultant myself, because his doctor wouldn't do a referral, he didn't think one was necessary. When I fought with him about this he blurted out that I didn't understand 'the politics behind autism in Ireland.' In hindsight he was sure right about that. As I really had no idea then what a hard journey lay ahead of us.
It wasn't until Adam was four and we got a letter about his Booster Vaccines, that I decided I needed to study them this time, before allowing anymore vaccines to be given to my son. I was a much wiser woman this time around because at that stage I could see that things weren't right and that there were all sorts of lies being told to me. When I started reading the science behind vaccination I was just horrified. And I really I couldn't believe all the lies that I had been told and just foolishly believed. Suddenly the callous disregard for my child made sense. I understood then why his medical needs were so overlooked.
Dr Krigsman speaks about Autistic Enterocolitis
Photos of my son's diseased terminal ileum that it is being claimed we are imagining.
Taking our son Adam to Sofia in Bulgaria was a huge undertaking.
This subsequently led me onto Adam's Bowel issues. Adam had terrible diarrahea every day which was foul smelling and he could often have four or five bouts of it every day. He was also often doubled over in pain and would lie on the floor and often start banging his head off the floor, the wall, or even the garden fence. I tried very hard to get Adam referred for tests, but here in Ireland nobody wanted to help my son. Once doctors, Consultants or any Medical professional really, saw my son had autism the shutters went up. Then they didn't want to test him for anything. It is so unfair and a complete violation of these vulnerable children's human rights that they are considered to be no more than just instruments of the politics behind autism. Also that they are just being left to suffer, for no other reason other than the fact that they have a controversial type of bowel disease and autism. As a parent it causes me such pain and anger to know that if my son didn't have autism, he would have been helped long ago.
So things got so bad that me and Adam's dad, Brian decided we would have to try and take Adam somewhere to get help for him as none was available here in Ireland. He was in so much pain and lashing out at me constantly. I couldn't take it anymore and his dad was so distressed from watching Adam consistently injuring himself and me.
We didn't have any money to go, so I had to sell my car and borrow from family to be able to afford the trip. My research had indicated that there were two Paediatric Gastroenterologists in New York who did diagnose and treat Gastrointestinal issues and Bowel issues in children with autism. They are Dr. Timothy Buie and Dr. Arthur Krigsman. unfortunately though I couldn't get our health insurance to cover America, they said they would only cover a facility in Europe. Then by chance I found out that Dr. Krigsman came to a hospital in Sofia, in Bulgaria, once or twice each year to diagnose and treat European patients. We knew it was still going to be a nightmare journey to take Adam on a plane trip from Ireland to Bulgaria, but we were quite desperate for help at the time and no-one in Ireland would help us.
So we had a lot of paperwork to do before we went and were extensively interviewed beforehand by Dr. Krigsman as he needed to be sure that Adam's issues warranted further investigations. So we had to also send him over blood test results, urine and stool sample tests and lots of other information. So after Dr. Krigsman had done his investigations he said that yes, he felt Adam needed to have further tests done.
So we went on our journey and we had to bring Adam from Kerry Airport to Stanstead in London, then at Stanstead, customs took our food for Adam off of us, as it was packets of liquid soup. We tried explain and they could clearly see that Adam had autism but it was no good, they said without a doctors letter we couldn't take it with us. Then we had to stay in London over-night and we flew from there to Sofia in Bulgaria, the next morning.
We arrived in Sofia war weary, stressed beyond belief and Adam was hungry and very agitated. I turned my phone on when we got off the plane and there was message from another mom, whose family was also in Sofia. I thought it was some kind of a sick joke at first. As the message said that Dr. Krigsman , had been rushed to Tokuda hospital during the night and that he had had a heart attack. He had just had an emergency stint procedure done, which had saved his life. I just couldn't believe that it was true but we were soon told that it was. Me and Brian were just devastated and we took Adam to the hospital canteen and thank god they had something that Adam would eat. So we sat there with Adam while he threw food everywhere and people as usual, stared at us. But we couldn't even move, we were shell shocked and we didn't even speak to each other for half an hour. We couldn't take it in. All the stress, all the fighting to get here and now the procedures were cancelled. I eventually told Brian, I just can't go back to Ireland with nothing, they will crucify me and I still won't even have any proof that Adam is sick. It just didn't look good.
So there we were medical refugees, in a country where we didn't even speak the language, to get procedures done that could very easily have been done in Ireland but for more than five years, no-one would do them. Because once a doctor in Ireland hears or sees that your child has autism, that's it, the shutters come down and your child is fine, he doesn't need any tests done and it's all his autism.
Dr. Krigsman giving a lecture about the 'new,' bowel disease.
Dr Krigsman had a heart attack while we were flying to Bulgaria.
I got so frustrated at times here in Ireland, that sometimes I wondered that if I took Adam to the doctor with his hand falling off, would I be still told that 'oh that's grand, go home and put a bit of tape around it and he'll be fine, it's a common problem with autistic kids but nothing at all to worry about. '
So there we were on the 17th of March 2015, which of course is St. Patricks day in Ireland. The irony wasn't lost on me that on the day when everyone around the world celebrates how great it is to be Irish, here we were 2,500 miles away just trying to get our son's chronic bowel problems investigated because in over five years despite being to every doctor, a Geneticist, an Immunologist, and Psychiatrists, Psychologists and much more, no-one would ever even investigate our sons chronic on-going diarrhea or even listen to me when I pleaded with them that my son was in pain. Instead nobody cared or would acknowledge that Adam needed any medical help whatsoever.
After a while we booked into a nearby hotel, we had been supposed to stay in the hospital accommodation but we couldn't face staying there now. We spoke with Dr. Krigsman's P.A. Aftyn as well as Meena and some other Bulgarian mom's who have a school nearby for children with autism and they all help out and act as translators while families are visiting. The next day we decided we may as well try and book flights home but it was too expensive and we couldn't afford it so we decided that we would just have to stay until the Friday . Then that evening Aftyn contacted us and said Dr Krigsman was being checked out by his Cardiologist on Thursday morn and if he was given the all clear that he really wanted to go ahead with the procedures just for the two Irish families, as we had traveled so far. Then we were really excited and hopeful again.
Then the next morning came and we were expecting a call at around twelve noon. One pm came and no call, two pm came and still no call, at that stage we knew something was wrong. At about 2.30pm Aftyn phoned. She said 'I am so very sorry, me and Dr. Krigsman both begged the Cardiologist to let the procedures go ahead but he said it was out of the question, that Dr Krigsman had just had a heart attack and he needed total rest. I just cried and I couldn't even speak. Aftyn then said the hospital wanted to offer us compensation for our travelling expenses as we had come such a long way and could we meet her in reception. We walked down to the hospital and it was snowing and I felt like I had to get them to change their minds, somehow. We went to reception and both us and the other family were in bits, we couldn't hold the tears back. Then just as Aftyn began speaking to us her phone rang. She was saying 'What, are you serious? Unless you are certain please don't say it because I have the two families here now and they can't take anymore.' My heart jumped I could see it in her face. Hospital Management had changed their minds and they were going to allow the procedures, under strict supervision, the next day.
So that evening we had our consultation with Dr. Krigsman while he was still in the Cardiology Department, and he then skyped us later that night to make sure Adam was ready for the procedures the next day. So at 12 noon the next day Adam had an Endoscopy, a Colonoscopy and while Adam was under an anaesthetic Dr Krigsman inserted the Pillcam, which was a tiny camera that travelled down through Adam's Gastrointestinal tract and came out in his stools. There was a camera recording it for approximately seven hours, so that's how we got the photo's we now have of the diseased areas of Adam's small intestine.
This is the Radio Interview where I tell our story about going to see Dr. Krigsman, in Sofia, in Bulgaria.
Adam had the investigative procedures at Tokuda Hospital, in Sofia, Bulgaria
The journey home was no less grueling, thankfully we had been given medication to help us to get home, and since then accessing help to implement Dr. Krigsman's recommended treatment for Adam has been an on-going challenge. Eventually we did manage to find a Consultant here to oversee Adam's care and Adam did so well for a while. He had normal stools and Bowel Movements for the first time in his life, also his moods were good and his behaviours improved. But then unfortunately there were issues Adam's medication and then Dr. Krigsman recommended changing it, but then unfortunately I couldn't find anyone here who could or would agree to further continuing Dr. Krigsman's recommended treatment for Adam. We have tried other medications since, for Adam's Bowel Disease and have been moderately successful but it is heart-breaking for me as Adam's mother to know that I cannot give my son what he needs i.e. the recommended treatment for his Bowel issues. That is why I had to speak out now, as I can no longer let my sick child suffer in silence because I am being intimidated into shutting up. As his mother I must find the courage to speak up, my son deserves that. As I know there are many more children like Adam here in Ireland and all over the world, who are being left to suffer in silence. Its not good enough anymore. My child is a human being and his rights need to be recognized and acted for.
These vulnerable children, like Adam can't tell us with words that they are in terrible pain because they cannot speak. So instead when they are suffering from stomach pain they often start having self-injurious behaviours and lash out at others too. Here in Ireland they are mostly being offered Risperidone, which is an anti-psychotic medication, when this happens. It broke my heart and Brian's, when in spite of all the medical evidence that I had to confirm Adam had a diseased small intestine, that instead of offering to continue Dr. Krigsman's recommended treatment for Adam, that instead he was prescribed Risperidone. This is a complete disgrace, for my sick child and all the others like him. I cry constantly when I have to give Adam this medication but sometimes I just don't have a choice as there is nothing else I can do without the medical support that I need for my son. So unless we ever find a consultant here to treat Adam's Bowel Disease fully, then we do fear greatly for Adam's future medical care. As definitely his stools are not as good as they were and Dr. Krigsman predicted that without the recommended treatment that Adam will regress completely in time. I fear this process is underway.
Is it unacceptable that the Irish Government, the Irish Health Service and the Irish Medical Profession will not help Adam to get the recommended treatment for his very real Gastrointestinal issues?
Dr. Timothy Buie also diagnoses and treats serious Gastrointestinal Issues in children with autism.
As an Autism Advocate should Fiona O'Leary help Adam to get proper and the recommended treatment for his bowel issues?
Please Fiona, apologize for the hurt you are causing us because of your lies.
Fiona O'Leary of Autistic Rights Together completely lied about our story.
Ms Fiona O Leary of Autistic Rights Together initiated a smear campaign against me and my family. Why?
I wanted to tell our story first before addressing the very hurtful and completely untrue comments made recently by an Autism Advocate here in Ireland, her name is Fiona O'Learyand she advocates fro the rights of autistic children and adults through her group Autistic Rights Together. I really just want Fiona to fully appreciate how her remarks were so hurtful and untrue. Especially when you take into account the fact that Dr. Krigsman did in fact risk his life to help Adam, our son. I subsequently contacted Fiona O'Leary of Autistic Rights Together, to ask her why did she say such hurtful and untrue things about me and my family? Unfortunately, she really didn't explain why yet, but instead she claimed she wasn't talking about me and my family.
Subsequent to this I contacted the journalist who wrote one of the hurtful articles, in the Irish Examiner and she did confirm by email that she was talking about me and my family and our time at Tokuda Hospital when we consulted with Dr. Krigsman. AlsoNorma Costello, Journalist, then said she was going to write another article about my family and the words she wrote in her email were, 'it isn't looking good and it will probably lead to investigations.' We were very disturbed by those comments and became fearful for our well-being and that of our children, after that. Since then I continue to receive threats and intimidation by email, phone and Facebook from various different sources and people. It seems like an awful frightening and unbelievable way to have to live, simply because you wanted to help your child to get medical treatment that he needed?
This then led to me speaking out about our story on, People's Internet Radio on Sean Maguires, 'Out of the Bag,' radio show, which airs here, from Ireland. I met Sean in Heuston Railway Station in Dublin last Sunday and we had a great chat. Also he is so knowledgeable about the law and I am sure I can learn so much from him over the coming months. Sean, like my family, has also been on the receiving end of unwanted comments and smears by Ms Fiona O'Leary on behalf on Autistic Rights Together, in the past. I spoke on his show last Wednesday night and the Podcasts are posted here. Hopefully it won't be taken down.
Ms O'Leary did however subsequently confirm that she was definitely talking about Dr Arthur Krigsman and his Bulgarian Clinic on the 'Today FM with Anton Savage,'on the 13/07/2016 last. I had so hoped that by speaking out on the Radio, that Fiona might still realize the hurt that she caused us (and I still do), in the newspapers and on the Radio. But unfortunately to date this has not happened. Instead I have received more threats and we are living in fear of what may happen to us next. Therefore I wanted a written record of this all just in case anything happens to me or my family this week. It is unimaginable to believe that this is how you are treated here in Ireland, just because you have a child with autism who also happens to have severe bowel issues.
So Dear Readers,
We now so desperately need the world to know that this is what is happening to us. Please share our story far and wide. As it is the only way to now help to protect us and to keep us safe and well.
Thanking you,
Brian, Mary, Sasha and Adam Godley
won't be silenced any longer and neither will my son Adam be, please hear us and give us your support.
More by this Author
5

Freddie Mercury was a flamboyant showman who always enthralled his legions of fans. Yet underneath his stage persona he was a shy person who didn't like the limelight and who rarely gave interviews.

2

Publically King Edward VIII was seen the world's most eligible bachelor in 1936. While in reality the new King had been conducting a very open affair with an American divorcee known as Wallis Simpson

15

On Wednesday October 3, 2012 the third a documentary was aired on British TV Channel ITV1 and its revelations shocked a nation. The program focused on details about the life of former BBC Presenter and Top of the Pops…