12 Year Old Girl Develops Guillain-Barré Syndrome After Gardasil Vaccine – Suffers Paralysis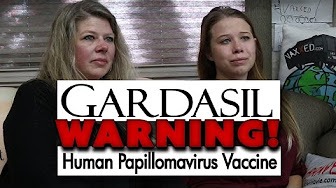 Health Impact News
The VAXXED film crew was recently in California interviewing people about their experiences with vaccines.
They interviewed Michelle Snyder and her daughter Ashley about the Gardasil vaccine.
The mother had reservations about the Gardasil vaccine, but doctors said it was fine. She has five daughters, and began to make plans to have them vaccinated with Gardasil.
After the first shot, her 12 year old daughter came in from playing and said her legs "weren't working." She had been a dancer since age 4.
The next morning, she could not even walk.
The mom called for help, and was told it sounded like "ascending paralysis" or Guillain-Barré Syndrome (GBS).
By the time they got her to a hospital, she could not even swallow, requiring them to insert a feeding tube into her.
Listen to the entire interview: