Aussie Cossack confronts Alan Joyce: Qantas CEO unrepentant for banning purebloods
"F*CK OFF!" – Alan Joyce CEO of Qantas meets Aussie Cossack
Russian Nationalist Aussie Cossack is out of prison and is back to his best, confronting the powerful over their culpability in the Covid Tyranny which still discriminates against purebloods.
Yesterday he uploaded a video of a confrontation with the disgusting homosexual Qantas CEO Alan Joyce, over his airline's policy which bans "unvaccinated" people from flying with or working for Qantas. At the time of publication it already has over 35,000 views:
Aussie Cossack quite rightly mocked Joyce for his reprehensible stance, yet Joyce pitifully alternated between pleading for sympathy and hurling abuse. For example, Joyce attempted the line:
"Do you enjoy doing this, just picking on people?"
Fittingly, Cossack responded:
"I'm not picking on you, you're picking on people, I'm calling you out buddy."
Spot on.
From Travel Daily Media, 15/9/2021:
Qantas CEO Alan Joyce has reiterated that unvaccinated passengers will be barred from international flights when borders reopen, which he hopes will be in December.
Mr Joyce told the Trans-Tasman Business Circle in the latest of a series on vaccinations that the airline would implement a policy requiring proof of vaccination before flying.
"Qantas will have a policy that internationally we'll only be carrying vaccinated passengers," he said. "Because we think that's going to be one of the requirements to show that you're flying safe and getting into those countries. We're hoping that can happen by Christmas."
Last year, before Australia's vaccine rollout, began, Mr Joyce warned that passengers would need to be vaccinated to board international flights.
The airline announced last month that vaccinations would be made mandatory for its 22,000 employees, citing a staff survey that found overwhelming support for vaccines.
Qantas and Jetstar will require all frontline employees to be double vaccinated by November 15, and all office employees to be double vaccinated by the end of March. Exemptions for medical reasons will be granted.
As the CEO of one of Australia's biggest companies, Alan Joyce made decisions which directly affected the livelihoods of tens of thousands of workers. He forced Qantas employees to choose between keeping a roof over their heads and taking a dangerous, experimental drug which as predicted is having severe adverse repercussions on dying suddenly, the overall death rate and fertility.
Joyce's position as CEO of Australia's major airliner gives him a chokehold over the portal in and out of this country, thus his ban on unvaccinated travellers held hundreds of thousands of people to medical ransom.
Furthermore, given he was warning passengers in 2020, before the great vaccine experiment began that they would need to be vaccinated to board international flights, he influenced public policy and normalised the idea of the vaccine mandate.
Yet Joyce had the audacity to claim:
"You're a disgrace for annoying somebody just walking down the street."
Alan Joyce is not "somebody just walking down the street." He bears direct responsibility for Covid Tyranny in Australia.
This point is especially pertinent given that Aussie Cossack spent time in prison this year due to his political activism. His political arrest, just weeks out from the federal election, was clearly meant to intimidate the entire Freedom movement.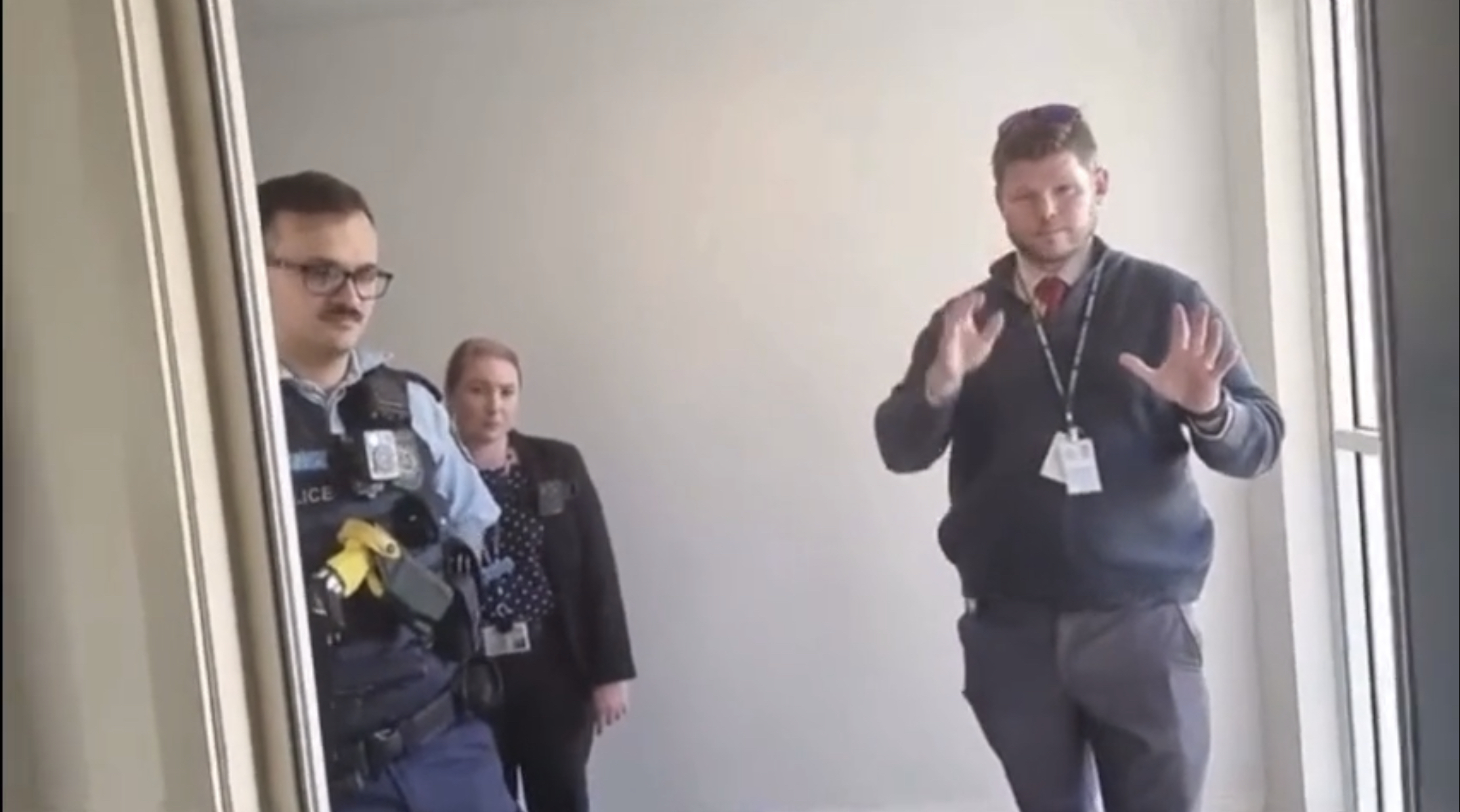 Joyce's uncouth reaction to legitimate questioning, telling the relentless Cossack repeatedly to "piss off" and finally to "f*** off" is an insult to all Australians. Joyce reveals an attitude of arrogant self righteousness, and he appears to believe he is untouchable.
He should be grateful that he is being treated so mildly. It is important to maintain pressure on those responsible for Covid Tyranny, so it is highly appropriate that they be called out for their actions in public. The hashtags #NoAmnesty and #NoAmnestyForCovidTyranny are trending on social media.
This should be a warm up for a wave of civil litigation and criminal prosecution.
Subscribe to XYZ on Telegram, Bitchute, Twitter and Gab.
Source: https://xyz.net.au/2022/11/aussie-cossack-confronts-alan-joyce-qantas-ceo-unrepentant-for-banning-purebloods/