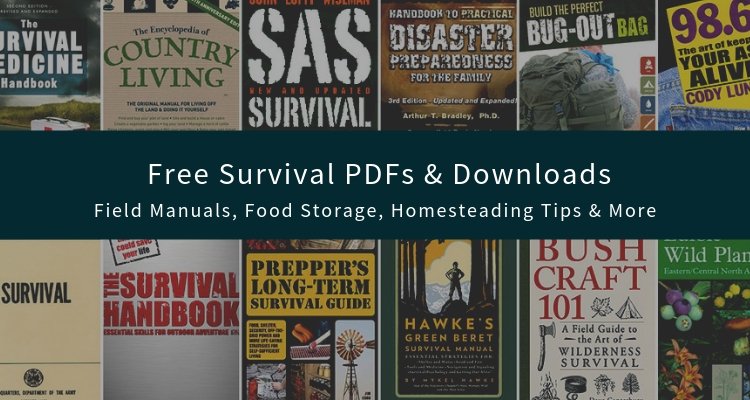 If you are trying to find survival books or a prepper PDF library, you've come to the right place. Below is a list of 667 of the best survival manuals, books, and survival guide PDF downloads. To download any of these titles, simply right-click on a file, and then select "Save As".
You can also get the entire survival PDF collection on a USB drive (see below).
Here Are The Best Survival Guide PDFs – Table of Contents
Military Survival Guide PDFs (51)
Many of us are familiar with firearms, gun safety, self defense, or even have our concealed carry permits. But military life lends itself to a particularly intense set of circumstances that most civilians will never know. Learn from the timeless wisdom of people who have engaged in prolonged combat, in less-than-ideal circumstances.
U.S. Army Survival Manual PDFs (7)
Special Forces Manuals (4)
Self Defense and Hand to Hand Combat (15)
Terrorism (2)
Nuclear (3)
Military Trades and Skills (3)
Other Military and Law Enforcement PDFs (17)
Wilderness Survival Books (51)
If you like bushcraft and learning how to use the earth around you to survive in nature, this list is for you. Along with a handful of non-negotiable wilderness survival tools, information found in these downloadable PDFs can help you enjoy yourself more in the outdoors, and could quite literally save your life. Learn about sheltering, foraging, medicinal plants, hunting, cold weather survival, bushcraft, and more.
Sheltering (2)
Foraging for Food (15)
Medicinal Plants (14)
Snaring and Hunting (3)
Cold Weather Survival (5)
General Wilderness Survival Books and Guides (4)
Bushcraft PDFs (8)
Food and Food Storage PDFs (220)
Over 200 free prepper books and PDF downloads about food storage, gardening, chickens and backyard farming, permaculture, hunting and fishing, slaughtering animals and processing them, canning and food preservation, and even survival recipes.
Also, if you're looking for a really solid but SIMPLE starting point with food storage, be sure to check out our complete survival food list.
Food Storage (2)
Gardening and Food Production (74)
Hunting and Trapping (5)
Food Preservation (56)
Recipes (9)