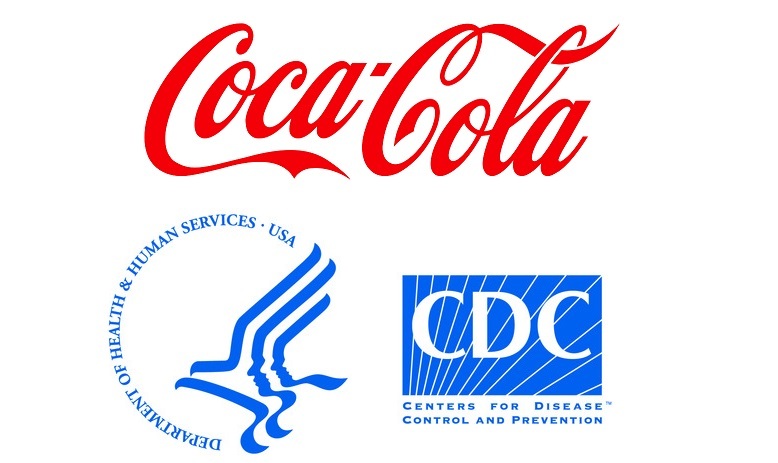 by Paul Fassa
Health Impact News
Questions and suspicions have been raised in recent years about apparent collusion by the CDC and the Coca-Cola corporation, which would allow the marketing of their soft drinks while suppressing information linking those soft drinks to health problems such as diabetes and obesity. These questions and suspicions were pursued by a study published in the Milbank Quarterly January 2019. 
Its title is Public Meets Private: Conversations Between Coca-Cola and the CDC.  Public health agency collusion that potentially benefits a producer of harmful foods or beverages is no small issue. 
Sugary sodas are the beverage sources considered mostly responsible for obesity, diabetes, including diabetes type 3 which is Alzheimer's disease, and heart health issues that are often wrongly blamed on saturated fats.
Sugar-free sodas contain aspartame, which has created more adverse food additive events to the FDA than any other. The symptoms are usually negative neurological reactions. Commercial pilots are discouraged from drinking diet sodas while in flight, for example, but how many people in the public realm are aware of this?
Other artificial sweeteners are also unhealthy, often encouraging the obesity they claim to prevent. Yet Coca-Cola ads encouraging consumption are everywhere. 
Shouldn't the CDC be warning the public of the health hazards of such products, instead of supporting them?
The Researchers' Approach to this Study
The "conversations" in the title of the study were emails the authors were able to obtain. You could say this study was more like a legal or journalistic investigation or a legal firm's efforts during a discovery process in civil litigation.  But the report was formatted along the general guidelines of a medical research study.
The Milbank Quarterly researchers considered this study relevant due to recently reported episodes of top CDC officials entertaining relationships with Coca- Cola executives. The concern is that makers of unhealthy food products are having inappropriate influences on the CDC.
The Coca-Cola company is not just about those cokes you see promoted everywhere and in every vending machine. They have control over and distribution rights with several brand names. 
For example, one of the reported episodes that motivated this study was:
In 2016, Barbara Bowman, director of the CDC's Division for Heart Disease and Stroke Prevention, resigned after emails between her and a former Coca-Cola executive were disclosed.

[The emails] showed that Bowman had advised the former Coca-Cola and industry association executive on how to influence the director-general of the World Health Organization (WHO) to stop promoting taxes on sugar.
Also see: 
The researchers' approach was to obtain as many emails as possible between key CDC and Coca-Cola personnel to determine if and how Coca-Cola had intended to influence CDC policy to benefit financially.  
Another area of interest in the study was the manner of manipulation or "psychology" Coca-Cola used for favorable relationships with high ranking CDC officials, as well as if or how cooperative CDC officials benefited.
The study authors' area of concern centered on determining the extent of corporate influence on public health policies, and the recent Coca-Cola – CDC incidents, such as the one above involving Barbara Bowman, offered a trail to pursue further investigation.   
How the Email Searches Were Conducted – A Cooperative Endeavor
One of the four authors of the study, Gary Ruskin, is a co-director of U.S. Right to Know (USRTK), an NGO (non-government organization) committed to creating food industry transparency for consumers and media outlets by exposing unhealthy food industry practices and the food industry's attempts at influencing public health policy. 
The group provides the information discovered on an internet platform and releases documents to media outlets for public health policy reform and to educate consumers 
From the "About" page of their website:
At U.S. Right to Know, we stand up for the right to know what is in our food, and how it affects our health. We believe that transparency – in the marketplace and in politics – is crucial to building a healthier food system that works better for our children, our families, and our nation.
This NGO group was represented by Gary Ruskin as a co-author of the Milbank Quarterly study and was responsible for gathering the emails for the researchers to review through the Freedom of Information Act (FOIA).  
Ten FOIA requests were made for email communications between CDC officials and Coca-Cola executives over the two-year period of 2016 and 2017. Five requests were rejected, because no records were found or the requests were too broad. 
The CDC itself held back from submitting 102 pages to "protect commercial or financial information which is privileged or confidential," begging the question whose financial information is being protected and why?
Three were still pending at the time of this study's publication (January 2019). Only three of the FOIA requests yielded results. But the 86 emails containing 295 pages received from those three FOIA requests were enough for the authors to review to determine a pattern. 
Results of the Researchers Email Analysis
From the study's results section: 
The returned emails demonstrate three main themes in CocaCola's contact with CDC employees: to gain and expand access, to lobby, and to shift attention and blame away from sugar-sweetened beverages.
Leading to the study's conclusion: 
The emails we obtained using FOIA requests reveal efforts by Coca-Cola to lobby the CDC to advance corporate objectives rather than health, including to influence the World Health Organization. Our findings provide a rare example of the ways in which corporate interests attempt to influence public health practitioners "in their own words," and they demonstrate a need for clearer policies on avoiding partnerships with manufacturers of harmful products.
According to co-author Ruskin's write-up on the study in the USRTK website:
Coca-Cola's contact with the CDC shows the company's interest in gaining access to CDC employees, to lobby policymakers, and to frame the obesity debate by shifting attention and blame away from sugar-sweetened beverages. (Emphasis added)
Industry's Shifting the Blame of Bad Health Away from Sugar is Nothing New
These attempts at the sugar and sugar-related industries to shift attention away from obesity, diabetes, and heart health issues by the sugar industries have been going on since the 1960s when a few researchers were beginning to discover how added refined sugar creates health issues. 
The attention went to saturated fat around that time, leading to the lipid (fats) theory of heart disease and obesity which then became official in 1977. Public health has suffered immensely from scapegoating healthy vital saturated fats since then. See:
For more on the U.S. Right to Know, go here. For more on the Milbank Quarterly and its funding, go here.
The following video is lengthy but full of valid information on the sugar industry and high fructose corn syrup (HFCS) as the culprit behind all the things blamed on saturated fats – especially around the 30-minute mark.