Facebook Caught Ignoring Threats to 'Kill Kids' While Censoring Posts Critical of Government
READ MORE AT THE FREE THOUGHT PROJECT 
Over the past month, the social media giant, Facebook, has been in countless headlines ranging from the scope of their data collection to rampant censorship of peaceful groups. The world is now finding out that the social media network they agreed to join is also in the business of mining their data, controlling the narrative, and stifling free speech.
Many have suspected that the rife censorship, removal of pages, and banning of members has long been the means by which Facebook is able to push a deliberate agenda. Even the interface of the entire platform, according to its creators, is designed to create a feedback loop in which "bad actors can manipulate large swaths of people to do anything you want."
Indeed, Chamath Palihapitiya, former vice president of user growth at Facebook recently stated at a public discussion at the Stanford Graduate School of Business,"Everybody else has to soul-search a little bit more about what you're willing to do. Because your behaviors, you don't realize it, but you are being programmed. It was unintentional, but now you gotta decide how much you're willing to give up, how much of your intellectual independence."
These recent revelations about the way people interact with Facebook and the way it can be used to steer public discourse has created a furious debate within the government as well as the private sector. In reality, however, Facebook is a private company. Everything that you see on the platform, you agreed to in its terms of service. This includes censorship, steering political agendas, and even getting banned for calling out the atrocities of war.
While much of this madness in which peaceful speech is flagged as offensive and its purveyors banned can be attributed to the algorithmic functions of the software, the Free Thought Project has recently documented an experience with Facebook that shows how dangerously inept this company is in stopping actual criminal acts—even when they are given documented evidence and all the details necessary to do so.
Naturally, because the Free Thought Project challenges the status quo, many people out there tend to be quite vocal in their opposition to the ideas of freedom and peace which we openly support. Often times, these people will email, message, or comment wishing us ill will. This is nothing new and most of the time, we simply ignore it. However, this week, we received a message that was impossible to ignore.
Sunday night, TFTP received the following message from someone we've never heard of or interacted with.
Everything wrong with America
Please don't call 911 when i come kill you and your kids .. cops can't protect a faggot like you
And I'm tracking the address to narrow down your exact location
I'm going to torture your family
This is a threat
This is your life at steak
I will make ur faggot children watch first
Again don't call 911 because you are against it
You are a group of dead men
Be careful smelling the mail in Milton ave
TFTP is not in the business of reporting people to Facebook. However, this is not a typical threat as he mentions torturing children and sending poison to our address. One would think that this is not the sort of message that Facebook would allow on their platform and do everything in their power to remove it. However, one would be wrong.
Going through Facebook's proper channels to report threats, TFTP reported this to Facebook with a link to the man's profile, a link to the actual message, a screen grab of the message, and a quote of the message. On Monday, Facebook had all the necessary information to see that a man was using their platform to threaten people about torturing and murdering them and their children.
One would think that Facebook would quickly respond letting us know that this clear violation of their terms and violation of the law would be swiftly handled. However, again, one would be wrong.
Facebook responded to us but not how we anticipated. They claimed that they were "unable to find the abuse you're reporting based on the initial information you've provided."
Thinking this could possibly be a fluke because we actually sent them more details than they require, we sent in another email, listing every single item they asked for, detailing the crime. We received the same response.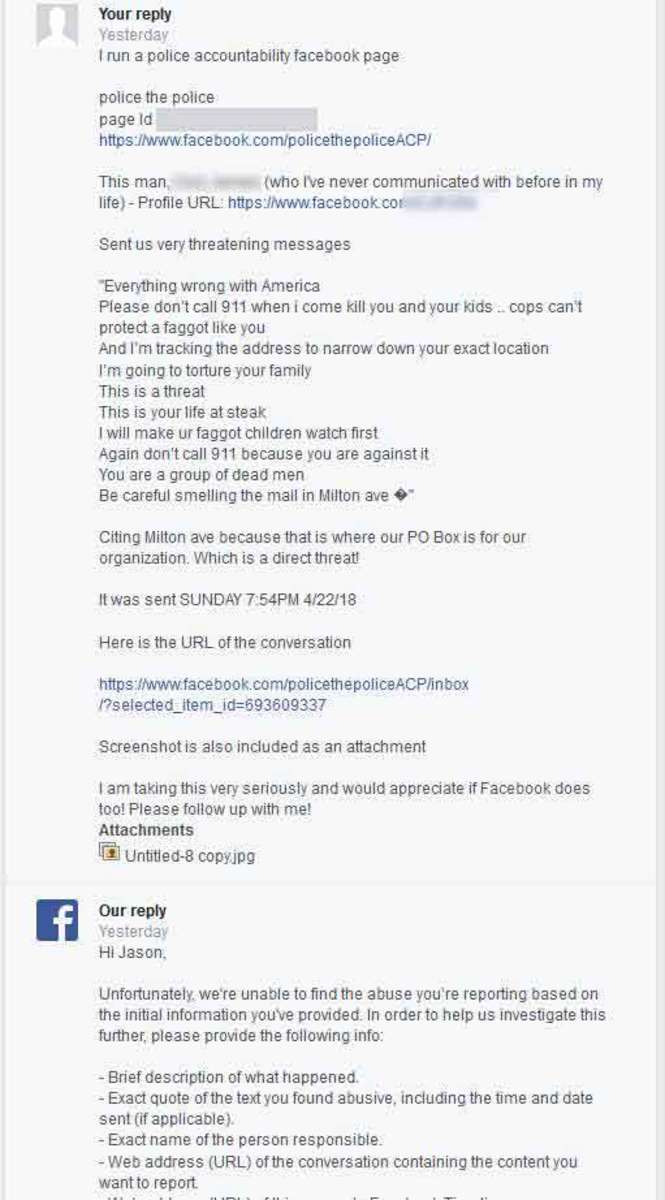 Thinking that this has got to be some mistake, TFTP reported it a third time. Third time is a charm, right?
Wrong.
On Thursday, after four attempts at reporting this threat, Facebook finally acknowledged it but said they only issued the man who threatened to murder children—a warning.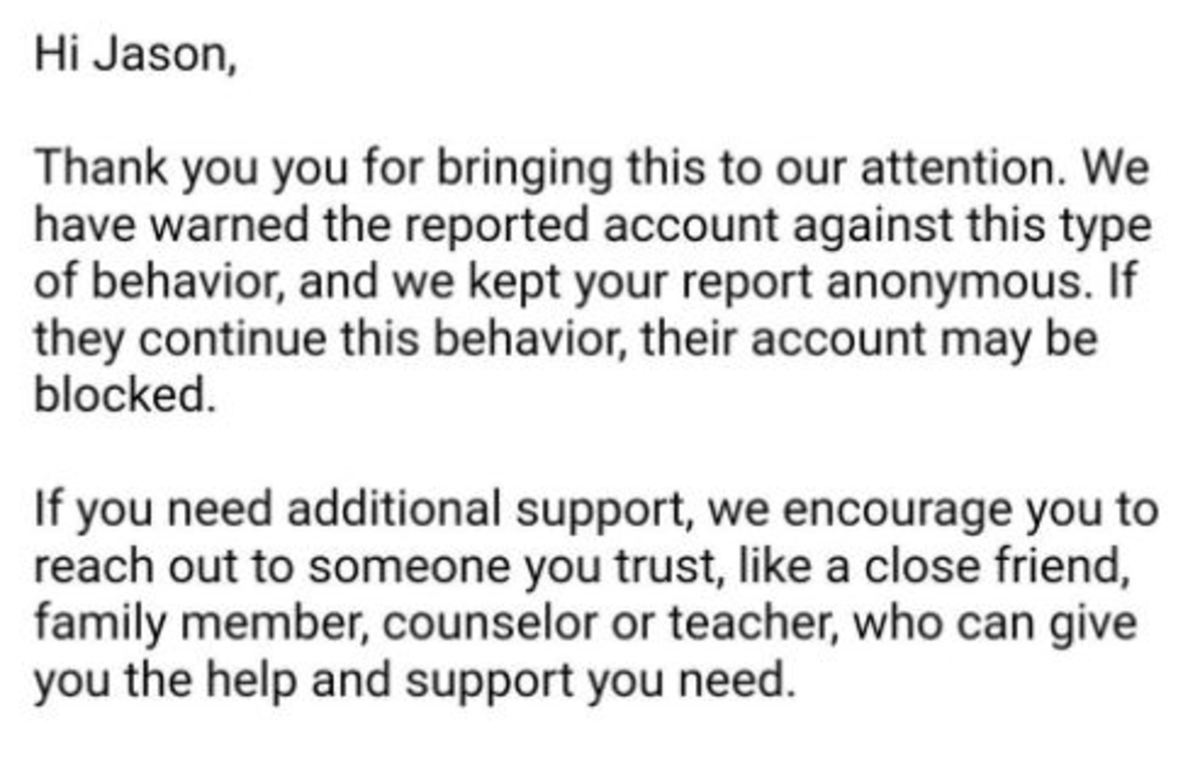 The sheer lack of concern about someone using their product to threaten child murder is mind boggling on its own. However, if we consider the story of Sarah and Andrew Leach, who TFTP exclusively reported earlier this month, this lack of concern becomes dangerous incompetence.
To be clear, TFTP is not calling for Facebook to censor any point of view, offensive language, or any non-threatening communication, no matter how nasty. However, this person is breaking the law, and Facebook appears more concerned with reporting people to the police because they share peaceful posts questioning government.
In an exclusive interview with The Free Thought Project, Sarah Leach said that she and her husband, Andrew, were ambushed and detained by a SWAT team for more than 13 hours before they finally received an explanation for their arrest. The evidence the officers claimed to have against them came in the form of a stack of papers that contained detailed screenshots of posts from their Facebook accounts. None of it called for violence, yet this family was raided by a SWAT team after Facebook flagged their content.
Once police realized that the couple had committed no crime and didn't even violate Facebook's terms, they were set free, but not before they were left severely traumatized.
As Leach noted, the screenshots that were used by police depicted content that questioned the narrative, criticized government overreach and called for police accountability. Instead of advocating for violence or threatening anyone, the posts condemned the violent methods used by the government and police.
In response to improperly flagged posts on Facebook, several federal agencies wasted taxpayer funds to spy on, detain and interrogate an innocent couple.
It is also important to point out that many members of the Free Thought Project team have been banned on Facebook for up to 30 days for sharing completely peaceful memes that simply challenge the status quo. Entire Facebook pages have been taken down for doing nothing other than sharing peaceful content as well.
Meanwhile, the man who threatened to murder children gets by with a warning—whatever that means.
Source: https://thefreethoughtproject.com/as-facebook-censors-peaceful-govt-criticism-terrorists-threatening-to-torture-kids-are-ignored/