Covid Vaccine Killed Shane Warne: According to President of Australian Medical Professionals Society
Several highly credentialed doctors are connecting the death of cricket legend Shane Warne to the Covid vaccine. XYZ News was right.
From the Daily Sceptic:
Note that multiple doctors are reaching the same conclusion that Shane Warne died from the death jab. This should be the biggest news story in the country. Instead when you google "Shane Warne" the Lying Press serves up gossip about the unwatchable TV miniseries being unleashed on the Aussie public in a cynical attempt to monetise his death…… and headlines straight out of 2021.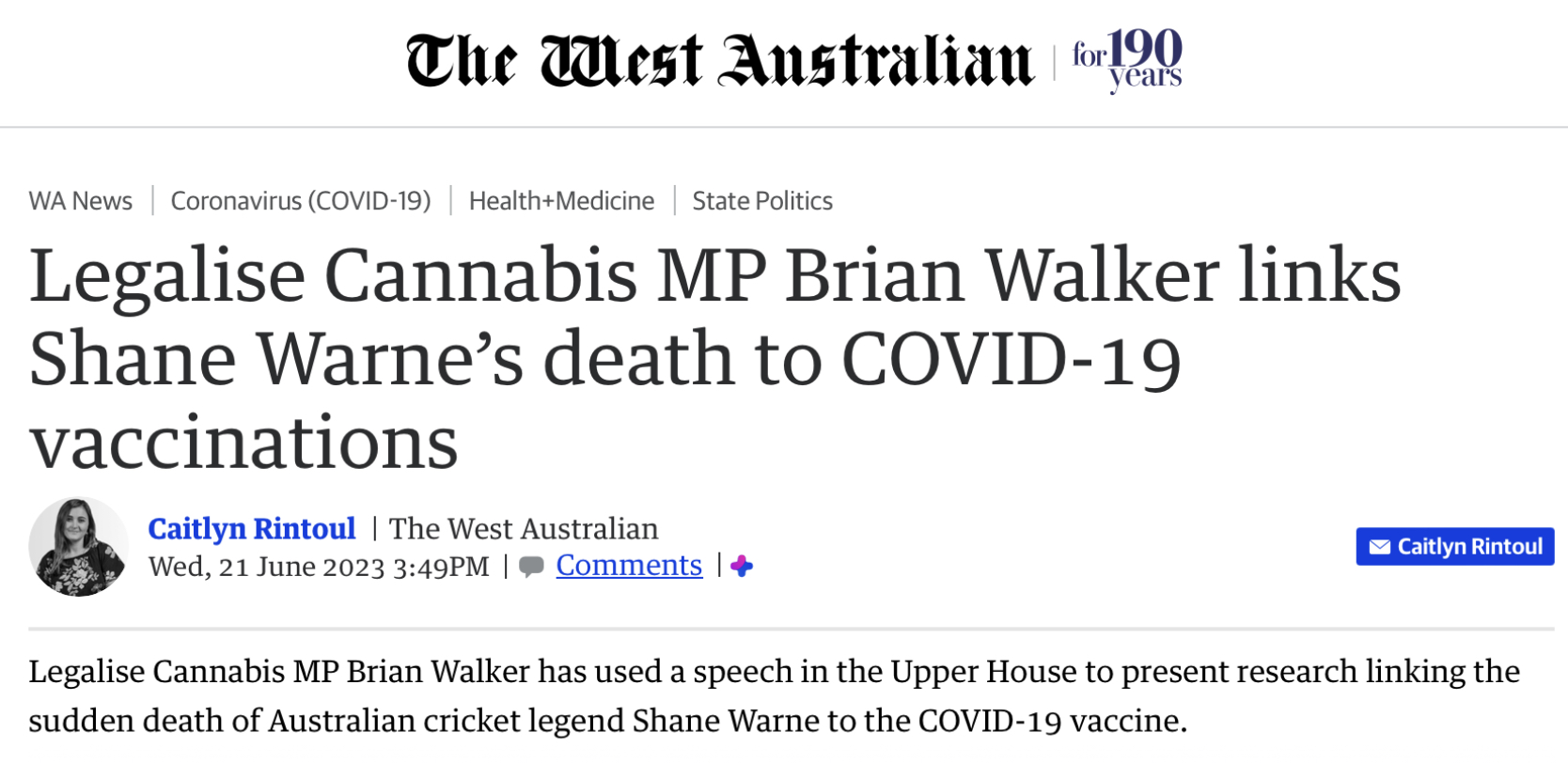 The Australian media are desperate to bury this story. However, the scientific evidence in the case against the notvaccine is overwhelming:
XYZ News compiled a list of Australian sportsmen who died from or had serious adverse reactions to Covid vaccines in 2022 alone, and these are just the ones we know about:
* Rod Marsh, 74, heart attack, died.
* Shane Warne, 52, heart attack, died.
* Matthew Lloyd, 44, Bell's Palsy, lived.
* Ryan Campbell, 50, heart attack, lived.
* Hayden Crozier, 28, myocarditis, lived.
* Ollie Wines, 27, Myocarditis, lived.
* Peter Matera, 53, heart attack, lived.
* Jason Januszke, 43, heart attack, died.
* Justin Crawford, 45, heart attack, died.
* Todd Woodbridge, 51, heart attack, lived.
* Ricky Ponting, 47, myocarditis, lived.
We have reported on excess deaths in Australia, disturbing effects on menstrual cycles and fertility, medical malpractice in hospitals, and state repression against doctors who call it out.
The Daily Sceptic is even more thorough, providing an extensive list of studies from around the world:
The Lying Press and the Covid Tyrants they shill for cannot afford for this story to break out of their censorship cage, because it would expose the worldwide pattern of deaths following the Covid jabs which constitutes the greatest genocide of all time.
The death of Shane Warne is a national tragedy. The vaccine has robbed us of a national icon. In addition to being a brilliant cricketer he was a larger than life character who embodied the Anglo-Australian identity.
Finally, regarding Shane Warne the man, I cannot throw the first stone. His flaws fed the headlines of a greedy Lying Press, while our own are kept private and are a matter between us and God. Those of us left alive are blessed with time to repent.
Subscribe to XYZ on Telegram, Bitchute, Twitter and Gab.
Source: https://xyz.net.au/2023/06/covid-vaccine-killed-shane-warne-according-to-president-of-australian-medical-professionals-society/