READ MORE AT FLUORIDE FREE PEEL 
I (CM), along with some anonymous helpers, have submitted Freedom of Information requests to various Canadian institutions seeking records that describe the isolation of "SARS-COV-2" (the alleged "COVID-19 virus") from an unadulterated sample taken from a diseased patient.
The reason for these requests is that without this isolation step having been performed (followed by controlled experiments and other necessary steps), there is no way to claim scientifically that the alleged "novel coronavirus" blamed for widespread death/disease/lockdown measures actually exists.
Without this step having been performed, and followed by the necessary controlled experiments, and independently replicated, all claims of this alleged virus are nothing but wild, unscientific, fraud-based speculation backed only by fraudulent science, fraudulent tests and fraudulent diagnoses.
My requests were intentionally worded to weed out the fraudulent, illogical and unscientific claims of having "isolated SARS-COV-2", of which there are many (see examples here and hereand here).
My requests were not limited to records of isolation performed by the respective institution, and not limited to records authored by the respective institution, rather they were open to records of isolation performed by anyone, anywhere on the planet.
Colleagues in numerous other countries have obtained responses to the same and similar information requests from dozens of additional institutions.
As of January 22, 2021 46 institutions and offices have responded to said requests. Every institution has failed to provide, or cite, even 1 record describing the actual isolation of any "SARS-COV-2" from a patient sample by anyone, anywhere on the planet, ever. 
All of these world-wide responses are available from this page.
Our wish is that all individuals responsible/complicit in the global "COVID-19" fraud and crime against humanity will be held accountable to the fullest extent lawfully possible.
My request to the Ontario Ministry of Health was submitted on May 14, 2020. Note that I requested from the beginning that any files be sent to me via email, not shipped to my home.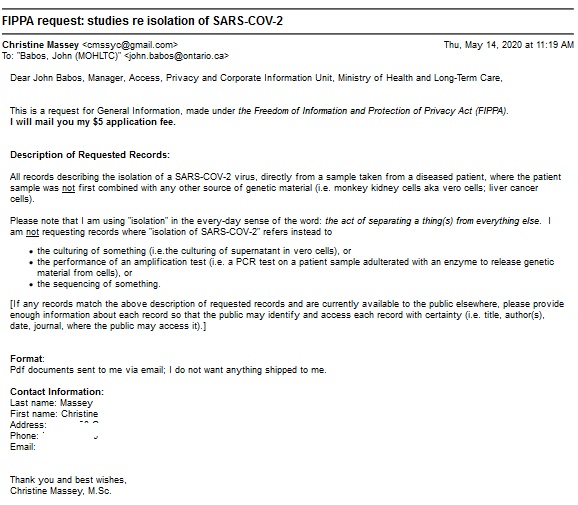 I then followed up with a clarification of my request.

After some initial emails with the FOI coordinator John Babos, I had heard nothing since June 2, 2020.
On October 1, 2021, after noticing that the $5 cheque for my application fee had suddenly been cashed I emailed the FOI coordinator to advise that my address had changed but again made clear that I preferred email communication, and didn't want anything shipped to me. I received no response and assumed "all was well".

Months went by and no response letter appeared. Therefore I recently sent 2 follow up emails, copied to additional Staff at the Ministry.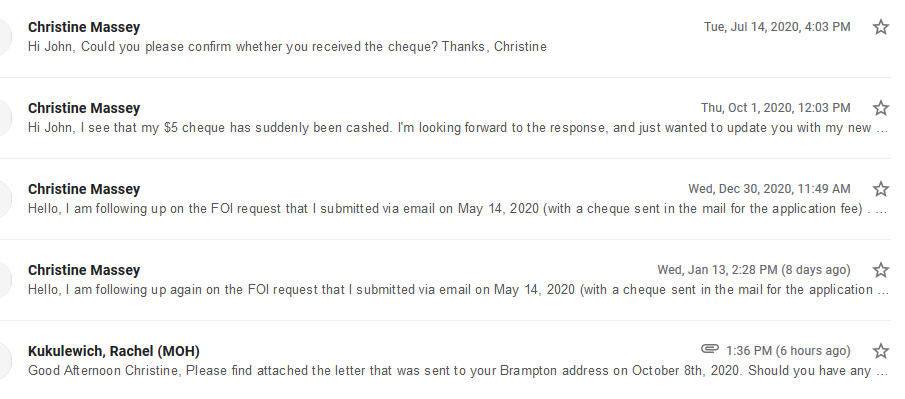 Today, I finally received an email with an unsigned pdf response letter dated October 8, 2020 attached. The email stated that the response letter had been mailed to my old address, even though I had advised of my address change 1 week prior to the date on the letter and reminded the Ministry of my preference for email communication.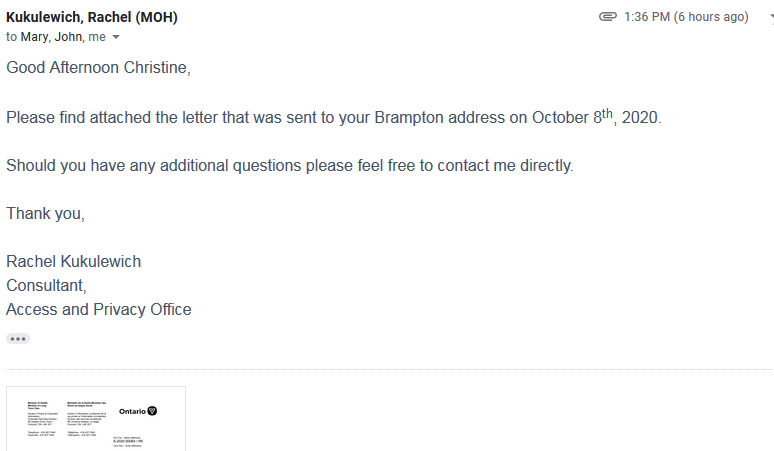 Below is a screenshot of the first page of the response letter. The full pdf letter may be accessed here: https://www.fluoridefreepeel.ca/wp-content/uploads/2021/01/ON-Min-Health-isolation-FOI-reply.pdf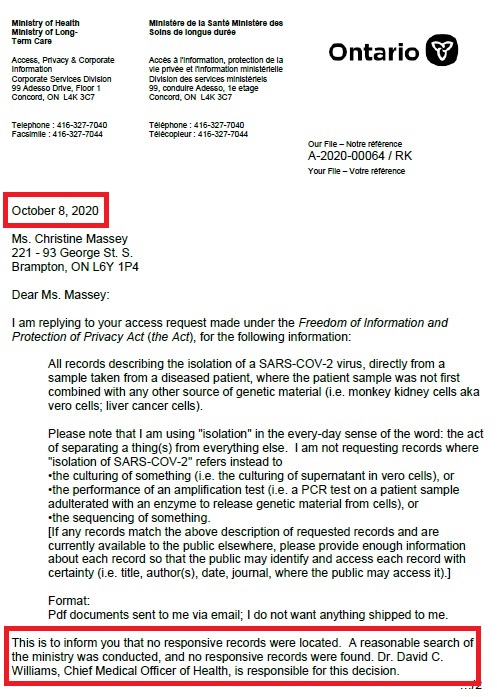 I wrote back to the Ministry and requested a signed letter, and an additional adjustment to the letter (as described below – you can click to enlarge the image).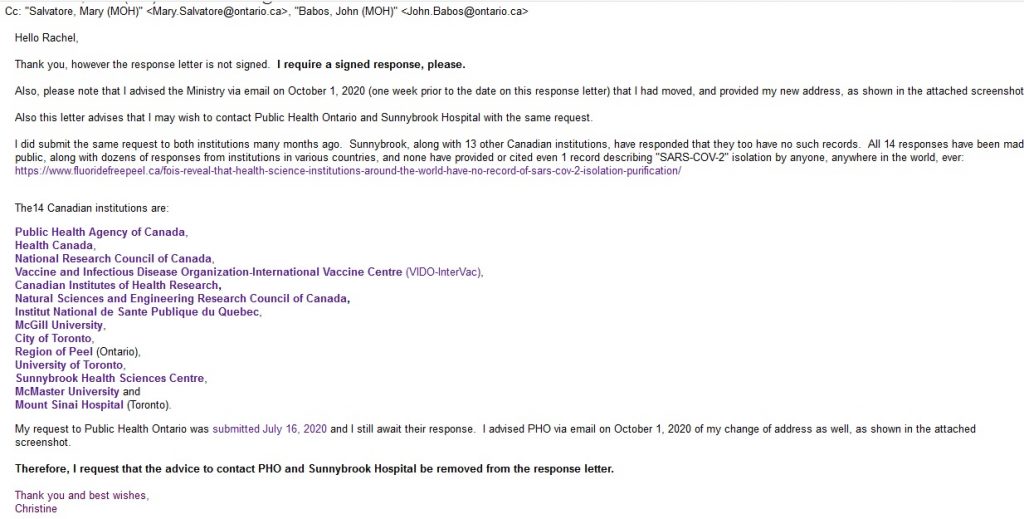 I will add the signed letter to this web page if/when I receive it.
So "What The Hell Is Going?
At this point you might be scratching your head and wonder what on Earth is going on. If so, the collection of presentations, articles and facts (not theories) on the page linked below will reveal the fraud and trickery that's behind the fake pandemic known as "COVID-19". https://www.fluoridefreepeel.ca/what-the-hell-is-going-on/embed/#?secret=Ovh1ELvqET
Source: https://www.fluoridefreepeel.ca/foi-reveals-ontario-ministry-of-health-has-no-record-of-sars-cov-2-isolation-by-anyone-anywhere-ever/