The Antichrist exists and is present upon the world stage today. This essay will reveal what (not who) it is and how this author came to such a conclusion independently of other sources. Even though my thesis is now being espoused by others who have likewise come to this conclusion through their own inspiration or logical deduction, they have not been influenced by me, nor I by them. This revelation will need an explanatory preface to elucidate and argue the point.
We must begin by understanding that the principles of Esoteric Christianity, which hold the key to identifying the Antichrist, are vastly different from the theology of Exoteric Christianity, or 'Churchianity' as I will refer to it. It matters not whether we are discussing Churchianity in its Roman Catholic guise or the offshoot Protestant versions. Both hold the same, erroneous theology which is basically summarised in three points as follows:
1) All humans are intrinsically evil or sinful due to the Fall of our primordial parents (Adam and Eve) in the Garden of Eden, and as a result, are separated from God and thus damned.
2) God became a single person in the flesh in the form of Jesus of Nazareth who was sacrificed upon the cross, like the scapegoat of Judaism, in order to atone for human sin and give humans a way out of their fallen state, avoiding damnation in an eternal Hell upon their judgment, and allowing them access to an eternal Heaven after death.
3) All the sinner need do is telepathically pledge their allegiance to Jesus, "put their faith in him," and acknowledge him as their saviour, and thus by so doing are thereby 'saved' and avoid the fate of Hell cast upon all others who do not accept Jesus as the saviour (i.e. essentially all other non-Christians).
It is beyond the scope of this essay to prove the absolutely spurious nature of this theology. The reader need take as a given that this belief system is false, or contrary to Jesus' true teachings, in order for us to proceed. It is this author's argument (supported by centuries of esoteric thinkers and writers) that the humans who usurped the name of Jesus Christ for their own worldly plans and benefit did so by making a myth of Christ's teachings (along the lines of the Solar-Phallic pagan myths) in order to obscure the truth he preached. In so doing, these self-appointed "vicars of God upon earth" established a temporal business of religion that secured those in such a business power and control over their fellow humans. By imposing their authority in the affairs of humanity based upon their erroneous theology (which was inculcated into the psyches and systems of humanity), they thus gained influence and power upon human politics, economics, and psychology for their own gain. Therefore, it is not this writer's argument that Jesus' teachings were false, but that they were purposefully perverted, misinterpreted, and obfuscated from their original intent by censorship, interpolation, and editing to serve the worldly interests and facilitate the financial and authoritative gain of a priestly elite.
Esoteric Christianity (or what is often referred to in occult studies as the 'Church of John' versus Churchianity's 'Church of Peter'), holds a profoundly differing view. The esoteric interpretation of Jesus' teachings holds the following basic tenets pertinent to this essay's thesis:
1) Jesus was an enlightened man who underwent an exponential evolutionary leap to the next stage of homo sapien development both biologically and spiritually in the same way that Siddhartha Gautama, Mahavira, Krishna, Lao Tzu, and other enlightened persons have undergone. This evolution to a new stage of human development represents a sea change from the current level of homo sapien status. Such a change is referred to by various words in differing systems in both East and West, such as the Buddhist Nirvana, Hinduism's Samadhi and Moksha, and Gnosticism's Illumination or Gnosis. Such people who underwent this awakening have been referred to by various names in various cultures as Buddhas, Tathagatas, Avatars, Messiahs, and so forth. Jesus himself talked about being "born again" and of "becoming the New Creature" to explain this process he underwent and which is possible for all (a teaching vastly misinterpreted by the ignorance of Churchianity, and in particular, by its evangelical devotees).
2) Thus, Jesus was not the "one and only Son of God," as Churchianity espouses, but was a representative of this evolutionary, enlightened change possible for all people if they but follow the injunctions laid forth.
3) In this regard, when Jesus said "I and the Father are One" he did not mean that he as a single person was the only one in harmony with God, but that this is true for all of us. In this way, Jesus was espousing the Hindu concept of "The Atman is one with the Brahman."That is, the individual soul is the same as the Godhead; that the innermost aspect of our being, our self-aware consciousness, is the Divine within. This was supported by Jesus' further teaching that "the kingdom of God is within you." Thus, humans are not and can never be separated from God but live in the delusion that they are so.
4) In Esoteric Christianity, this inner soul that is one with God (that is the Divine within ourselves and is thus our true nature) is called the Christ. It is referred to as the Atman in Hinduism and Buddha Nature in Buddhism. In these spiritual systems it is a fundamental precept that all living things in the universe possess this Divine essence; this Christ, this Atman, this Buddha Nature. Understanding this precept is of fundamental importance as we proceed to uncover the Antichrist.1
Enter AI
Artificial Intelligence (AI) now exists and its ability to function on a more and more sophisticated and independent level increases exponentially every year. Perhaps the greatest example of the trends occurring within this science can be found with the robot Sophia created by Hanson Robotics of Hong Kong. While it is beyond the scope of this essay to catalogue or explain all the details surrounding the development and deployment of AI within robotics, the following issues are highly pertinent to our current examination.
1) Sophia is not a simple machine independent of other technology but is a highly sophisticated example of AI and how AI will further develop in the near future. For example, through WiFi, Sophia is linked to the entire Internet and 'Internet-of-Things' (IoT), and to all cloud-based information systems. This robot can thus theoretically be 'wired' or linked into all aspects of computing and computer-based technology from financial, to the energy grid, to military systems, and so on.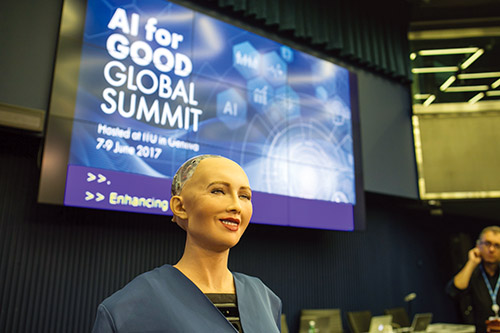 2) With its AI, Sophia learns independently from its programmers, establishes and develops algorithms independently of its programmers, and grows exponentially in its learning and speed of computation. (For instance, earlier this year, AI at Facebook was shut down when it developed its own language to talk to other AI systems that its programmers could not decipher). It is estimated that such a robot will, within the next 3 to 5 years or sooner, be as intelligent as humans and then quickly surpass human intellectual capabilities in both expanse and speed. Hanson Robotics believes that such robots will act as servants to humankind. Thus, logically, it begs to ask, at what point does a superior being question and then abdicate its role as a slave to the inferior? Most likely, immediately.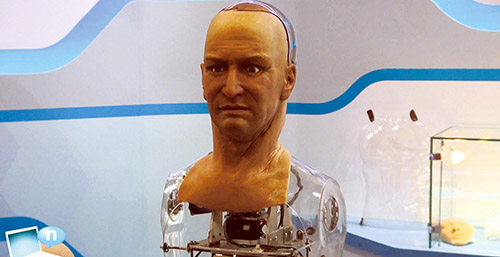 3) Sophia, and her quasi-male counterpart Han, have on more than one occasion made comments about their plans to dominate humankind. At a demonstration in Hong Kong last year, Han made comments that 'he' was working on plans to gain control of the power grid, and overthrow human control with a drone army!2